Creating an eBook for content marketing is crucial for your campaign. An eBook can be used as a whitepaper as a lead magnet for your audience. It will help you to acquire customers or visitors. Here, I will talk more about technical things such as how to make eBooks for marketing purposes.
* The 7 things mentioned in title is actually all the points covered in this article.
Use eBook Creator Software
There are many eBook creator software such as Adobe Indesign, Sqribble, Designrr, etc. The first one mentioned, Adobe Indesign, need a dedicated designer to use it, while the others are software that designed for ordinary user that want to create an eBook.
Designrr
I will start with Designrr. Designrr costs $27 a month for the standard version. At first, I think it is costly, but after using their trial, they offer me a lifetime deal of the standard version here for a limited time. You can try to visit the page if the promo still exists.
Of course, it is a very good deal. Actually, I know that this is a sales method to bring me to upgrade to the next tier of their product, but I have chosen to use their standard version as a 7-day trial and it is very good. You can get the 7-Day trial here.
Its standard features already good enough for me to create several ebooks for my eBook campaign marketing. It can make a good eBook with good design and layout, make a good cover, eBook cover mockup, and so on. I don't really need the extra features offered at the next tier version.
Designrr Tutorial
For the technical stuffs on how to do this, this video will briefly explain it.
Sqribble
It is very similar to Designrr, but this software comes with a higher price for a lifetime deal, about $67, but usually, it holds a promotion coupon. At the time this post was created, the coupon is "TOYSTORY" which will give you $40.20 discounts or 60% OFF, which total $26.80. Pretty much the same with the Designrr, huh…
But, I have spied this product for some time, and I happened to know the coupon that will give you $43.55 OFF, an extra $3.35 off from the previous coupon, which totals $23.45. You can check it here.
Sqribble Tutorial
For the technical stuffs on how to do this, you can check this video from YouTube.
Which is Better, Designrr VS Sqribble?
So, which do you think is better, Sqribble or Designrr?
Designrr is earlier than Sqribble, so they may have accumulated more experience, while Sqribble founder is Adeel Chowdry which already founded Social Studio FX and Pixel Studio FX which also already experienced.
The standard features are pretty much the same, you will not feel any differences between those 2.
Designrr has a better auto-layout arrangement. If you delete an element, it will rearrange the next element (paragraph, images, etc). Meanwhile, Sqribble will be a mess if you delete any content. For me, this is a deal-breaker that make Designrr is better ebook creator software.
Designrr has more standard features that I rarely used which is import from Facebook Pages. You can also publish in the file format that accepted by Amazon Kindle, which is also I rarely used.
You can see the comparison in image below (by the way the info provided by Designrr, which they acknowledged that it may be biased)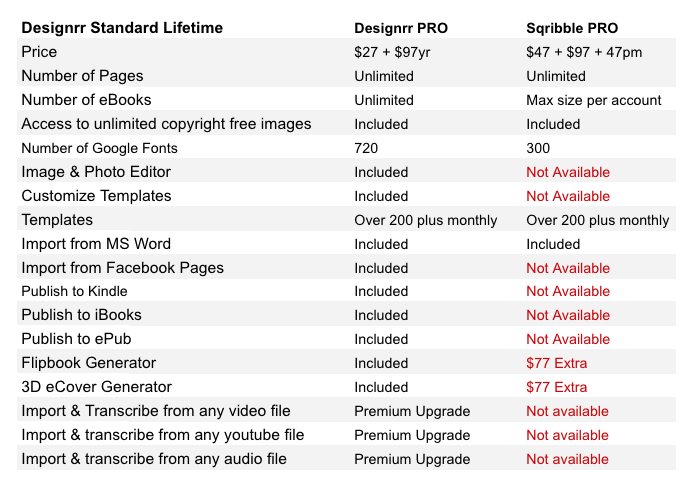 Sqribble standard has a content database which you can use to make eBook with instant content. You have to modify it though if you don't want the eBook looks the same with the same content published by other Sqribble users.
While the standard version is pretty much the same, the next tier (pro version) are different.

Designrr focused on eBook making, you can make eBooks from the video. Designrr will automatically transcribe. They also added extra mock up for your 3D cover generator.
Sqribble focused on freelancing. They have add-ons for you to find jobs in several outsourcing platforms such as Freelancer, Golance, 99designs, and so on.
Conclusion of Sqribble or Designrr
If you want to find the cheapest product with almost the same features, you can go for Sqribble lifetime here ($23.45), but they don't offer any trial. Meanwhile, if you want to test first, you can try 7-Day trial of Designrr Premium here, and later use the lifetime deal of the Designrr standard version ($27). Designrr is better eBook creator software because it has better auto-layout arrangement.